Welcome the the Official Rene Cigler web site
See more
pictures
of her.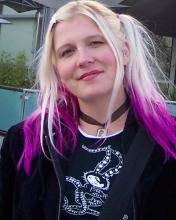 Here you can find out about the work and life of Rene Cigler. View her paintings, sculptures and illustrations and see what an amazing mark she left on the world.
The world has lost a shining star.
On August 4 2008 René Cigler passed away.
René you will be missed so deeply by so many.
Rene Cigler's work spanned over 20 years in both commercial and fine art working for companies such as American Greetings, Those Characters from Cleveland, Mattel, Equity Marketing, Hasbro and Play Along working on major licensed brands. She had an amazing ability to create characters and branding that were the right fit at the right time. She became known in the art world for her sculptures that were shown in major publications such as Boing Boing, Heavy Metal, Bone Saw, Details and Playboy. Her adornment work was part of the on-stage performance of the band Ministry on the 1992 Lollapalooza tour. She started her own jewelry line in 1990 called Bobe-Link. She started two companies with her partner Cameron Smith. These are Strange Monster, a Portland based apparel manufacturer with products reaching 17 countries and Inkmonster, a graphic brand development and licensing company. Rene had her fine art in many gallery shows over the years in galleries in Cleveland, New York, Los Angeles, Napa, Emeryville and Vallejo CA.
Sign her Memorial
Read what people wrote about René or write an entry yourself
at the Cleveland Plain Dealer Guestbook